Affordable, On-demand Scalability and Performance
Government and commercial entities alike can keep ahead of unrelenting data growth with LN1. Featuring a unique building-block architecture allows for data storage builds that scale infinitely and seamlessly into existing data ecosystems.
Take the first step in your enterprise-class date storage strategy with kSAFE LN1: a bite-sized keeperSAFE solution. Built on the private cloud, object-based Keeper hardware and software platform, LN1 offers a tightly integrated and supported solution for your organization's data requirements today, tomorrow, and in the future.
Keeper Technology builds, integrates, tests, and deploys LN1 to your specifications; therefore it easily assimilates into your existing environment and supports your existing protocols. On-site deployment occurs quickly and with minimal downtime.
Managing data is not a static event. Your data ecosystem evolves over time as your infrastructures grow. LN1 answers today's growing enterprise-class data storage and management requirements by offering a scalable solution to reliably store and quickly access your mission-critical data.
Add storage as needed for incremental capacity and performance
The ever-growing volume of unstructured data demands high reliability, fast performance, and low maintenance. LN1 is a dynamic, cost effective solution that keeps your mission-critical data secure and accessible, and seamlessly scales to position your infrastructure for the future.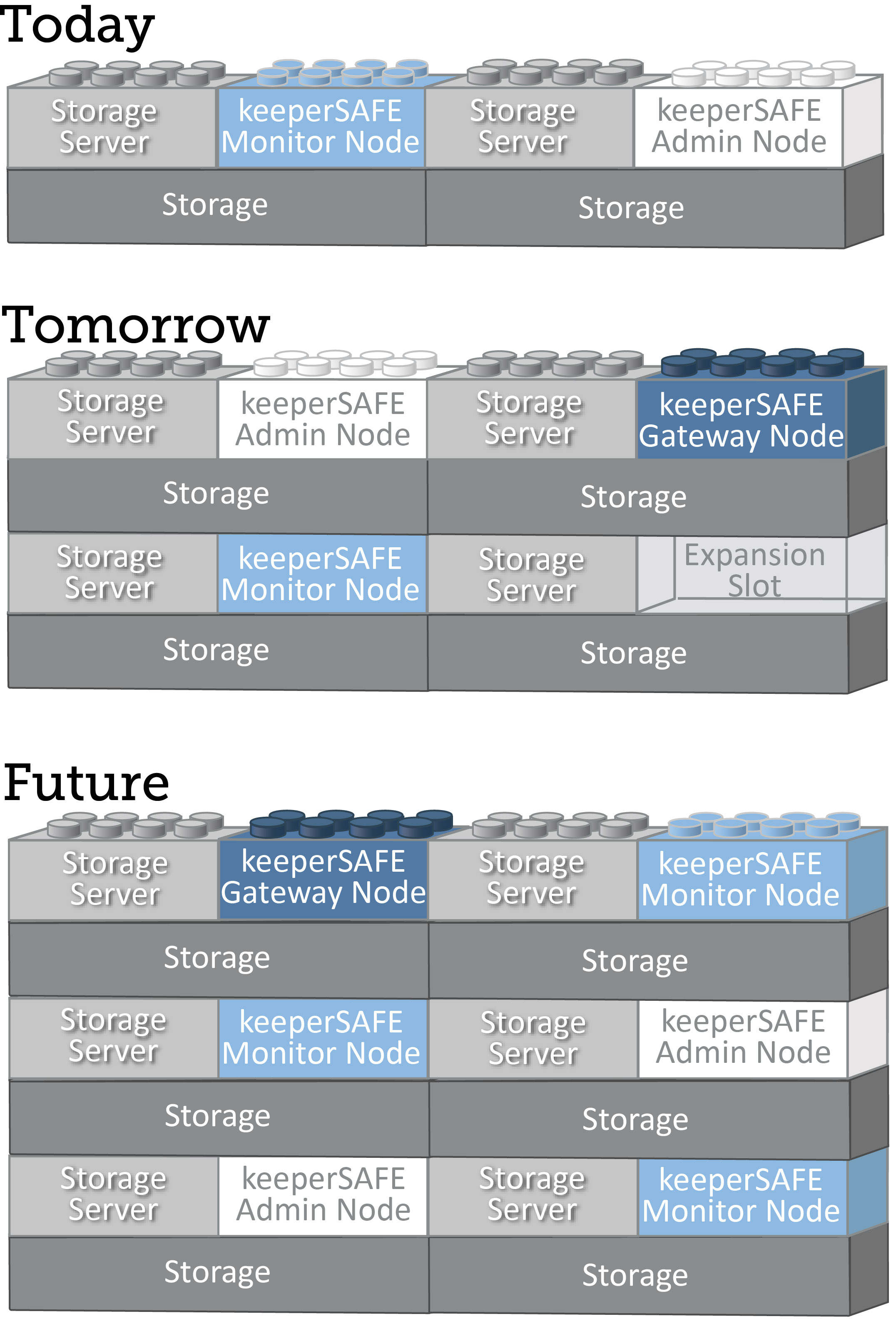 The basic configuration of a kSAFE LN1 scales with your future storage needs to the exponential capacity and capability of an enterprise-sized keeperSAFE solution.
---
Integration Facts
You've invested countless resources into your current data management solutions. There's a way to keep those systems, and make the upgrade necessary for inevitable changes.
keeperSAFE® assimilates into your existing environment by directly supporting your existing protocols. Download a use case sheet to learn how.