Axellio Inc. is a leading innovator in all NVMe Flash Hyper-Converged Infrastructure (HCI) and Edge Computing systems uniquely designed to run tier 1 storage-intensive workloads. Axellio carries with it a legacy of twenty years of innovation in enterprise IT infrastructure systems and solutions providing the highest reliability, quality, service standards, and system performance enterprise infrastructure.
---
Packet Capture At Full Line Rate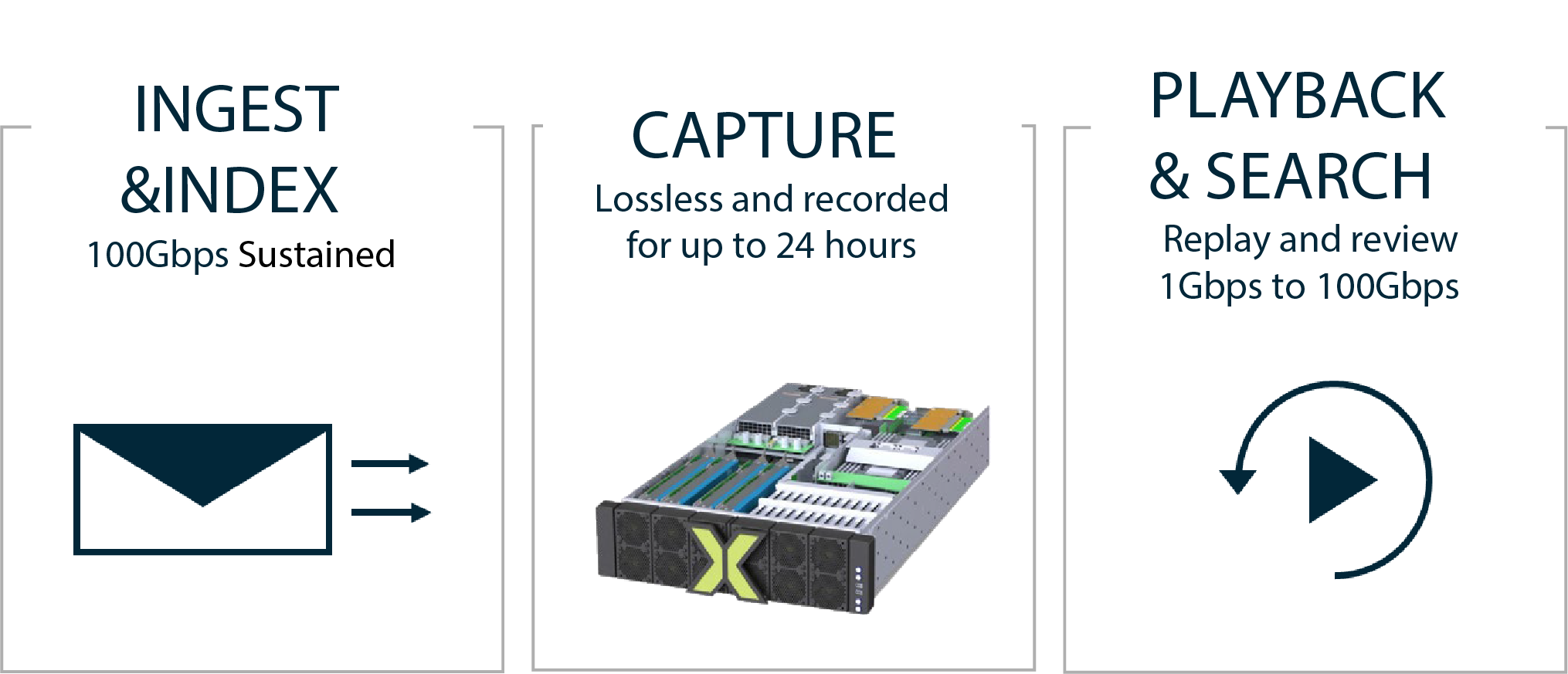 Learn More!
---
Axellio FX: FabricXpress
As computing evolves, so too does the need for strategic, innovative ways to process data. While the cloud has its place in the world of tech, ever-increasing demands for dense data environments, has driven the industry to a new frontier — edge computing.
FabricXpress is designed for the emerging edge computing market, which requires high-bandwidth, low-latency, and high density. FabricXpress is a high-density, converged server/storage platform that leverages a unique NVMe/PCIe architecture to provide unequaled, sustained throughput and end-to-end low-latency response necessary to meet the most demanding edge requirements.
For the Data Center
FX-2000
Deliver your company real-time performance that combines speed, density, and cost to enable the next generation of capabilities for video streaming, cyber security, financial market data, defense and intelligence, and Internet of Things (IoT). With the FabricXpress FX-2000 edge-computing platforms, you'll enjoy high-bandwidth, low-latency, and high density that enables your team to achieve new levels of performance.
For the Tactical Edge
FX-BLOX – Coming Soon!
FX-Blox is a portable edge computing platform designed to fit in a carry-on suitcase while providing the capability of a high-performance enterprise data center. It is based on Axellio's FabricXpress™ product, which leverages a novel bus-switching invention that creates a "super highway" to converged processing, memory, and storage components. It is the world's fastest and largest capacity edge computing system, enabling real-time advanced analytics on massive volumes of high velocity data.
Read More: Axellio FabricXpress All-NVMe for Microsoft Azure Stack | Signal Analytics with FabricXpress | Tactical Edge Computing
FabricXpress
Solutions:
Aerospace
and Defense:
PacketXpress Delivers Total Packet Capture:
FabricXpress-
PCAP:

High Bandwidth
Low Latency
High Density
View the
FX 2000 Data Sheet:
Meet Demanding Workloads Where They Are:
FX-Blox
(coming soon):
Signal
Analytics:
---
Some Recent Axellio Highlights:
A best value for performance/VM and cost as per IOMark.
Received validation for Microsoft Azure Stack HCI, which was recently announced as the hyper-converged infrastructure (HCI) program for Windows Server 2019.
Received VMware hardware compatibility certification.
Awarded R&D Contract with US Air Force.
---
Integration Facts
You've invested countless resources into your current data management solutions. There's a way to keep those systems, and make the upgrade necessary for inevitable changes.
keeperSAFE® assimilates into your existing environment by directly supporting your existing protocols. Download a use case sheet to learn how.