keeperSAFE® Storage Appliance

keeperSAFE® is a purpose built, scalable storage ecosystem. It's an evolutionary technology designed to ease the switch from a traditional, dedicated bare-metal application environment to cloud-based architectures without having to invest in a new storage infrastructure. Key aspects of the technology protect your investment, allowing your data system to evolve and grow while eliminating the most common pitfalls of traditional systems.
keeperSAFE® accelerates an enterprise's "time to answers" by accelerating dynamic big-data workflows.
FEATURE

BENEFITS

Self-Healing

Reduces response time by removing the human-involvement element

Future-proof/Elastic

Granular nature of the system means it will continue to evolve
Adapt to new needs and new technologies
End the cycle of disruptive migrations

Reducing Operationsl Costs

Utilize legacy systems
Scale as needed
Reduce capital "forklift" migrations
Eliminate downtime and data access delays
keeperSAFE® utilizes cloud technologies fused with open source breakthroughs to present a cost effective, flexible, scalable and efficient storage solution to address the enterprise-class data storage and management requirements of today – and the future.
Purpose-Built, Object-Based Storage Platform
Limitless scaling & elasticity (incremental growth)
Add or remove components with zero downtime
Automated, Real-Time Data Protection – eliminates bottlenecks, aggregate resources
Extreme resiliency, easy to operate and maintain
True 'Scale-Out'
Resource aggregation without bottlenecks
Objects provide the backbone
Capacity optimization
Cost Effective
Open Source + Commodity hardware + Keeper Technology's Unique IP
Features an exclusive System Wide Auto Rebuild Mechanism (SWARM)
Reduces Future O&M Costs
Because of its building-block architecture, the keeperSAFE® solution encourages data storage builds that scale infinitely, yet are flexible to run and administer. This adaptability allows keeperSAFE® to utilize legacy systems and transition and migrate when it makes financial and business sense.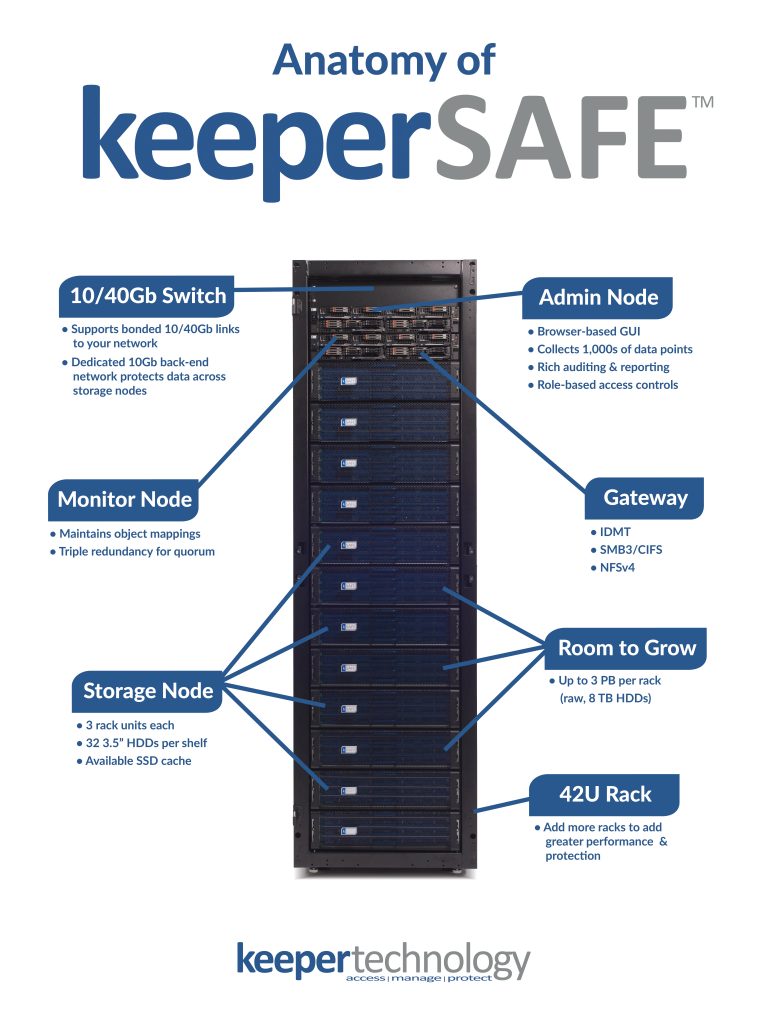 ---
Integration Facts
You've invested countless resources into your current data management solutions. There's a way to keep those systems, and make the upgrade necessary for inevitable changes.
keeperSAFE® assimilates into your existing environment by directly supporting your existing protocols. Download a use case sheet to learn how.