Quantum Products
*** Keeper Technology is a Quantum Platinum Partner and Authorized Support Provider ***

Keeper Technology has a longstanding relationship with Quantum as a preferred reseller of their wide range of outstanding storage solutions. Quantum products can provide you with end-to-end solutions built for every stage of your data's lifecycle – offering ultra-fast performance, real-time collaboration and analysis, and low-cost archiving – on-premise or in the cloud.
A Quantum StorNext® shared storage and advanced data management solution, combined with Xcellis® workflow storage, delivers the performance and scalability you need to power the modern media workflow and extract maximum value from your content.
Performance
Traditional
Backup
Archive
Object*
F-Series
QXS 3
QXS 4
DXi
Scalar
keeperSAFE (StorNext FlexTier Certified)
---
Quantum Performance Storage
F-Series
The F-Series uses NVMe flash drives for ultra-fast reads and writes and to support a huge amount of parallel processing. In addition, F-Series uses the latest RDMA networking technology to provide direct access between workstations and the NVMe storage devices, to provide predictable, ultra-fast network performance. Lastly, both the software and hardware architecture are designed to be highly available.
Unlike other NVMe storage arrays, the F-Series was designed specifically for video and video-like data sets, so it can easily handle the performance requirements of ultra-high-def content, high-resolution images, and other forms of unstructured data.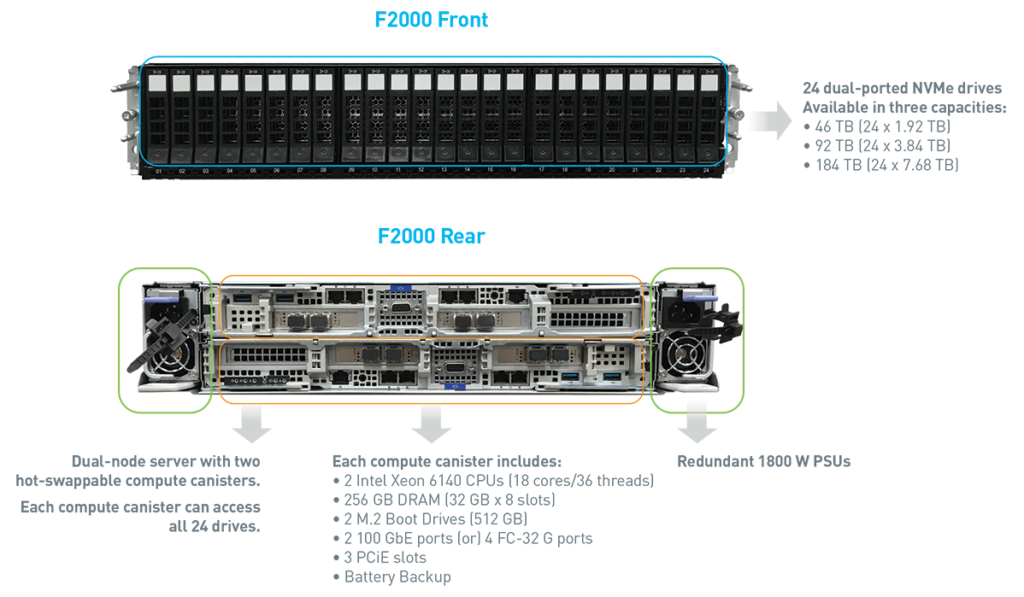 ---
Quantum Traditional Storage
Quantum QXS
QXS hybrid storage is a family of primary storage systems that make it easy to select the perfect system for your environment and budget. QXS hybrid systems are customizable and scalable by alternating key elements. While all QXS hybrid systems are available with intelligent tiering, the QXS-3 Series features a balanced mix of reliability and availability; the QXS-4 Series delivers the optimal mix of performance, cost and storage density while the QXS-6 meets the IOPS requirements of the most demanding workflows.
---
Quantum Backup Solutions
Quantum DXi
DXi backup appliances provide high-performance, scalable storage for backup and multi-site disaster recovery, with the industry's most efficient design. Variable-length deduplication maximizes data reduction, our unique replication engine enables multi-site protection and DR, and the high-efficiency design enables customers to maximize backup performance while minimizing data center footprint.
---
Quantum Archive Solutions
Quantum Scalar
The Scalar® i6000 tape library was designed to ensure that data is secure and available over long periods of time. It scales up to 180PB of data, supporting large enterprise storage environments. Capacity-on-Demand offers fast, flexible, and non-disruptive growth, easing the difficulties of managing dynamic storage requirements.
*** keeperSAFE – Quantum StorNext FlexTier Certified ***
---
Integration Facts
You've invested countless resources into your current data management solutions. There's a way to keep those systems, and make the upgrade necessary for inevitable changes.
keeperSAFE® assimilates into your existing environment by directly supporting your existing protocols. Download a use case sheet to learn how.