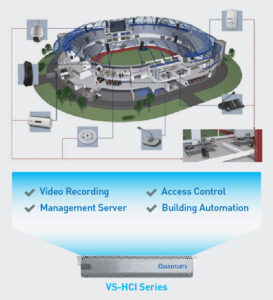 The Quantum VS-HCI Series provides hyperconverged infrastructure for surveillance recording and video management, providing a single platform for multiple physical security workloads. The VS-HCI Series is available as either a 2U rack mount server, or an ultra-dense 4U, 60-drive rack mount server. Multiple servers can be connected in an HCI cluster for redundancy, and the VS-HCI Series software provides for failover between servers. Unlike other HCI product offerings, the Quantum VS-HCI Series is purpose-built for surveillance and security workloads, enabling support of higher camera counts with less hardware expense.
To maximize uptime, the VS-HCI Series provides for multiple levels of redundancy, both within the server by using redundant components and RAID6 protection and failover between servers. Lastly, the VS-HCI Series is backed by Quantum's global support organization, providing world-class pre- and post-sale services to tens of thousands of customers around the world 24x7x365.
Click here to learn more about Hyperconverged infrastructure (HCI) for surveillance recording and video management.
---
Integration Facts
You've invested countless resources into your current data management solutions. There's a way to keep those systems, and make the upgrade necessary for inevitable changes.
keeperSAFE® assimilates into your existing environment by directly supporting your existing protocols. Download a use case sheet to learn how.