Scalar libraries are the intelligent choice for archiving applications and long-term data retention. Proactive and automated monitoring and management reduces administration time and service interruptions keeping IT staff focused on key business objectives. With ease of management, industry leading performance, reliability and scalability, it's easy to see why Quantum is the market share leader in tape automation.
---
i6000
Protecting and retaining your data can be challenging. Keeping pace with fast, unpredictable data growth in a cost- and time-efficient manner pushes IT staff to their limits. Ensuring that data is secure and available over long periods of time adds to these challenges. The Scalar® i6000 tape library was designed to solve these problems and simplify your environment.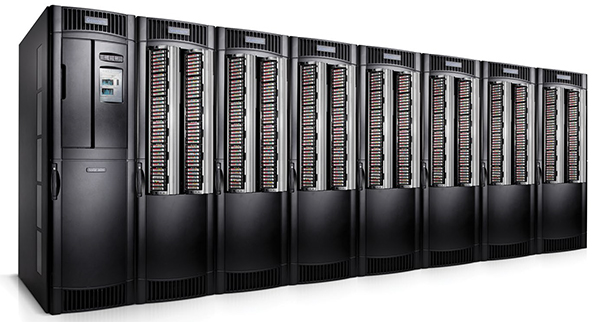 The i6000 scales up to 100s of PBs of data, supporting large enterprise storage environments. Capacity-on-Demand offers fast, flexible, and non-disruptive growth, easing the difficulties of managing dynamic storage requirements. Quantum customers experience significant management time savings due to the intelligent and proactive features in iLayer™ management software, up to 75% savings compared to other libraries. High availability features like Dual Robot and Path Failover allow the library to continue to operate despite failures of library components or even failures within the SAN fabric. The Extended Data Life Management feature (EDLM) ensures your archived media is trouble-free so the data is available when you need it. Security features like FIPS-compliant encryption key management safeguard your data while in the library and after export.
Quantum Scalar i6000 Features, Specifications and Data Sheet
---
i6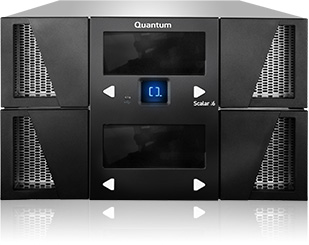 The Scalar® i6 tape library delivers the highest storage density in LTO automation, scaling up to 12PB in a standard 19-inch rack, providing the lowest cost per GB within a single rack.
Integrated iLayer™ features like policy-based data integrity checking, automated in-library vaulting, and in-depth system monitoring and reporting ensure valuable content is available when needed, making Scalar i6 the best choice for demanding workflows. And it's a Scalar, the market share leader in LTO automation, so you know it's reliable.
Quantum Scalar i6 Features and Specifications
---
i3

The Scalar® i3 tape library is designed for ease of use, from initial setup to ongoing management. Features like iLayer™ proactive diagnostics, Capacity-on-Demand (CoD) scalability, 80 PLUS-® certified power supplies, and best-in-class storage density ensure that Scalar i3 will save money on more than just the initial purchase. You'll see why Scalar is the market share leader in LTO automation.
Quantum Scalar i3 Features, Specifications and Data Sheet
---
SuperLoader
Designed for simple and reliable backups, the SuperLoader® 3 offers an exclusive package of advanced features including StorageCare® Guardian, remote management, and barcode reader—all at no additional cost. It also gives you the widest range of drive options in the industry to support data requirements up to 1,920TB—with the flexibility to expand as your storage needs grow.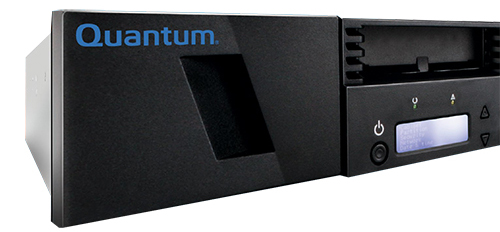 Quantum SuperLoader 3 LTO-7, LTO-6, and LTO-5 models now include DATASTOR Shield™ backup software with deduplication to supercharge your backup. Quantum and DATASTOR have teamed up to provide the first backup with deduplication straight to tape. This technology, which reduces backups significantly (up to 20X), allows you to store more data per tape than competitive models.
The SuperLoader 3 brings you a full suite of advanced features at an affordable price with easy integration, an intuitive user interface, and compatibility with a broad range of backup software packages. And because you can easily expand from 8 to 16 cartridge slots, your investment is protected as your needs grow.
Customers may also choose additional service level uplifts to 5×9×ND and 7×24×4 for maximum availability and faster response times.
---
Integration Facts
You've invested countless resources into your current data management solutions. There's a way to keep those systems, and make the upgrade necessary for inevitable changes.
keeperSAFE® assimilates into your existing environment by directly supporting your existing protocols. Download a use case sheet to learn how.