Scalar Products -> * i6000 * | i6 | i3 | SuperLoader
Features & Benefits:
Download Data Sheet: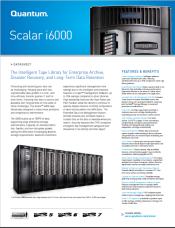 iLayer Intelligent Software – Intelligent software automates administrative tasks, reducing administrative time up to 75% compared to other tape library products.
Active/Active Dual Robots – Adds a second robot to the library for high availability and faster performance. Operations continue in the event of a robot failure. Robot service is non-disruptive to the application.
Extended Data Life Management (EDLM) – Exclusive iLayer feature to ensure availability of your data placed in long-term storage/archive/DR. Integrates with StorNext® Storage Manager to automate protection of archived data.
Active Vault – Archive tapes inside the library to minimize costs and cartridge handling while improving security and access to vaulted content.
High-Density Expansion Module – Can store almost 23.4PB* in a single 19-inch rack without compromising cartridge access performance. Provides non-disruptive bulk loading, fast independent cartridge scan/inventory.
Advanced Reporting – Media, drive and security reports improve understanding of library utilization and performance. Automated report scheduling and distribution save time.
Path Failover – Control path and data path failover features ensure library system stays operational and accessible even with a SAN fabric failure.
Consolidation – Library capacity, high availability features, and partitioning support tape and library consolidation, delivering significant ROI.
Smart Bulk Cartridge Imports/Exports – The largest import/export capability in the industry, coupled with exclusive auto-import and export-redirect features, significantly reduces cartridge load/unload time.
Modular Architecture with Continuous Robotics – Provides flexible scalability in a standard 19" rack form factor without sacrificing reliability.
Capacity-on-Demand Growth – Simplifies storage growth by scaling quickly, easily and without disruption.
Quantum Vision® Management Software Support – Reduces management time in multiple-device environments and integrates easily with Quantum disk backup solutions.
Scalar Key Manager Support – FIPS-validated solution makes it easy to manage keys, mitigating risk of lost data.
Scalar LTFS Appliance – is available to present tapes as NAS storage, enabling new ways to manage and access archive files.
Specifications:
Quantum Scalar i6000 Specifications
Capacity Configurations
Total Drive, Cartridge and Capacity Ranges
Technology
Drives
Cartridges
Capacity (TB)
LTO-8
1 to 192
100 to 12,006
360,180
LTO-7
1 to 192
100 to 12,006
180,090
LTO-6
1 to 192
100 to 12,006
75,038
LTO-5
1 to 192
100 to 12,006
36,018
Please see www.quantum.com for more drive specifications.
1 Assumes 2:1 compression for LTO-3, LTO-4 and LTO-5. Assumes 2.5:1 compression for LTO-6.
2 Choice of IBM or HP models.
Capacity-On-Demand
Cartridge Slot Starting Points:
100, 200, 400, 700, 1500, 3000, 5000, 7000, 9000, and 11,000
Operation
Drive Interface:
8Gb FC, Native 8Gb FC
Library Interface:
8Gb FC bridged through the drive
Inventory Speed:
For most modules, 1 minute 12 seconds. 4 modules <5 minutes.
Configuration:
Auto-discovery and auto-calibration for installed/added components (modules, tapes, drives, magazines, etc.)
Import/export Options*
Control Module:
One I/E Station with 24 LTO slots
Expansion Modules:
Option for 0, 24, or 72 slot I/E stations per expansion module
Maximum I/E Station Slots:
1104 Slots
Extended I/E:
Allows licensed storage slots to be used as import/export elements
Bulk Load/Unload:
Up to 540 slots per High Density Expansion Module (HDEM) without interrupting library operations
Auto-import:
Library automatically imports cartridges to multiple partitions based on user policies without needing cartridges placed in specific I/E slots
Export Redirect:
Automatically redirects cartridge exports to bulk unload areas or to an Active Vault based on user policies
*Up to 240 import/export elements supported per logical partition
Environmental
Electrical:
100-240 VAC , 2-24 kVA -48 VDC, <1 KVA per module
Power:
80 Plus certified power supplies
Temperature:
15 to 35°C operating
Humidity:
20 to 80% non-condensing operating
Reliability
Library MSBF:
Greater than 3,000,000
Library MTTR:
20 minutes, 10 minutes for Dual Robot replacement
Power:
Optional 2N power
Diagnostics:
Embedded monitoring of major subsystems, self-diagnostic procedures, and policy-based email and pager alerts to system administrators and Quantum Global Services
Compatibility
Consult the most recent Software Compatibility Guide on www.quantum.com for a complete list of software and platforms compatible with Scalar i6000.
Compliance and Certification
Safety:
TUV IEC-60950-1:2006 CB Scheme, EN60950-1 2nd Edition
Emissions:
Class A: FCC CFR-47 Part 15, CISPR 22, EN55022, KN22, ICES-003
Immunity:
EN55024, KN24
International:
CE, cTUVus, KCC (MIC), GOST, VCCI, C-Tick
Physical
Module Type
H×W×D
Control Module (H×W×D):
77.4"×24.3"×38.3" (196.6cm×61.7cm×97.4cm)
Expansion Module (H×W×D):
77.4"×23.6"×38.3" (196.6cm×59.9cm×97.4cm)
Parking Module (H×W×D):
77.4"×23.6"×38.3" (196.6cm×59.9cm×97.4cm)
Drive Capacity and Performance
Drive Type
Cartridge Capacity Native/Compressed1 (GB)
Drive Throughput Native/Compressed1 (MB/sec)
Encryption Support
LTFS
LTO-8
12.0 / 30.0
360 / 900
Yes
Yes
LTO-7
6.0 / 15.0
300 / 750
Yes
Yes
LTO-6
2.5 / 6.25
160 / 400
Yes
Yes
LTO-5
1.5 / 3.0
140 / 280
Yes
Yes
Please see www.quantum.com for more drive specifications.
1 Assumes 2:1 compression for LTO-3, LTO-4 and LTO-5. Assumes 2.5:1 compression for LTO-6.
2 Choice of IBM or HP models.
Advanced Features
Advanced Reporting:
Media Integrity Analysis report, Media Usage report, Drive Utilization report, Security report and media removal notifications, Report scheduling with automated report creation and delivery to distribution lists
Firmware Auto-leveling:
Maintains consistent firmware levels across all tape drives in the library
Active Vault:
Vault archive tapes inside the library.
Reduces software and hardware costs
Reduces management time
Policy-based tape exports
Improves data security
Extended Data Life Management:
Media health reports of cartridges stored for long-term archive and DR, information is collected outside of normal operations:
Automated scheduling for scanning tapes
Notifications on test results
Policy-based data migration to new cartridges (only available with StorNext Storage Manager)
Dual Robot:
Adds a second, redundant robot to the library for high availability.
Path Failover:
Control Path Failover, Data Path Failover including support for path failure within the SAN fabric
Library Partitioning:
Supports up to 16 partitions for tape consolidation
---
Integration Facts
You've invested countless resources into your current data management solutions. There's a way to keep those systems, and make the upgrade necessary for inevitable changes.
keeperSAFE® assimilates into your existing environment by directly supporting your existing protocols. Download a use case sheet to learn how.